Things to do in Keswick When It's Raining
Summer has been glorious so far but the long needed rain has now begun. The weather in the Lake District can be notoriously unpredictable, but you can guarantee that it will definitely throw it down at some point. It's always a good idea to have a Plan B up your sleeve in case of a sudden downpour. Even when the weather isn't co-operating, there's plenty of things to see and do in Keswick that you can do indoors. Read on for our suggestions.
---
Watch Something On The Big Screen
Keswick Alhambra Cinema
If you haven't visited Keswick Alhambra Cinema for a little while you'll find there's been a few changes happening. The front of the building has been renovated and a brand new 28-seater second screen has been installed. It's tucked away under the balcony to preserve all the original features including the balcony and stalls layout of the large auditorium. The 108 year old building, full of character, is a world away from the city centre multiplexes. The new auditorium allows the Alhambra to screen a more diverse range of films. Did you know that the Alhambra put on extra matinee films when there are successive rainy days? Check out their latest showings here.
Theatre by the Lake
Theatre by the Lake has a setting on the shores of Derwentwater no other professional theatre in Britain can match. It has a reputation for creating top notch theatre productions and each year it stages a variety of productions of classic, modern and new plays on its two stages and has won multi-starred reviews from national critics. It also hosts festivals of film and mountains. Daytime and evening refreshments are available from light snacks to pre-theatre meals. There are productions for adults and children alike in their programme.
There are lifts to all levels and wheelchair users can get to all front-of-house and backstage areas. Both auditoria have enhanced-hearing and induction loop systems.
Rheged
Rheged Centre is a gallery, café, cinema, shopping venue, workplace and creative space on the edge of the Northern Lakes. Watch a film, share a meal, entertain your children or do some shopping you can spend hours here with the whole family.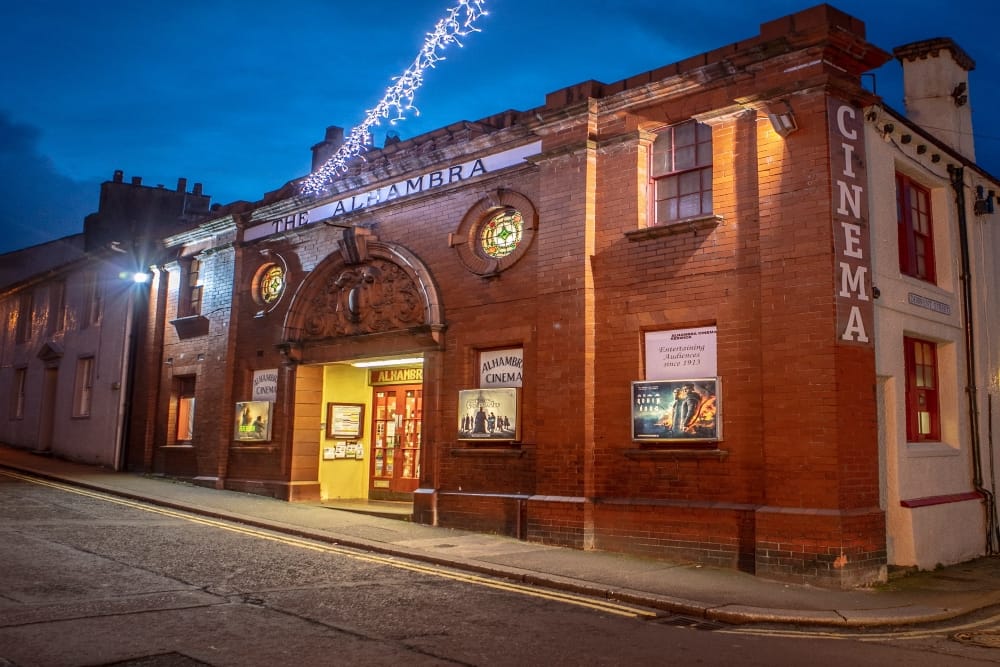 ---
Have an Indoor Adventure
Keswick Climbing Wall
Keswick Climbing Wall, located right next door to Castlerigg Stone Circle, offers indoor climbing, bouldering and indoor archery so it is an ideal venue if it is wet. The climbing wall has over 40 top rope climbs with a height of up to 8 metres, providing climbers of all abilities with every challenge they could want. Climbing lessons are available if you have never tried it before, while experienced climbers have a good range of challenges to test them. Keswick Climbing Wall is the perfect place to practice your climbing skills, learn a few more and still be able to climb on odd wet days we can get here in Keswick!
Keswick Brewing Company
If you like your craft beers, you should make visiting Keswick Brewing Company a priority. Keswick Brewery offers guided tours of the brewery and also hosts a gift shop full of bottled beers, and mini casks. Take a tour and find out why Keswick Brewing Company uses sheep's wool when making their beer, what exactly goes into the brewing process, and finish the tour off by sampling a few of the delicious beers. The on-site Fox Tap Bar is the perfect place to relax and sample the beers where they are brewed.
Puzzling Place
For a really fun activity for all the family, visit Puzzling Place, a unique attraction where you can step straight into an optical illusion. You won't believe your eyes when you enter the "Anti-Gravity" room, where everything might seem a little off-kilter; the Forced Perspective Room lets you walk into an incredible illusion where people seem to grow and shrink as they walk around the room. At the end of the optical illusion exhibit, there's a shop full of fun games and puzzles, providing even more entertainment for a rainy day.
Honister Slate Mine
One way of escaping the rain is to head underground - go on an adventure into the heart of a Lake District mountain when you visit Honister Slate Mine. Less than half an hour's drive from Keswick, Honister gives you the opportunity to see just what goes on in a slate mine, with their underground mine tours.
''Climb the Mine" is the ultimate adrenalin filled wet weather activity. Two hours of adventure will take you deep underground where you'll tackle vertical climbs, rope bridges and ladders to explore the hidden passages and caverns where Honister slate was once extracted by miners. Emerge triumphant to a spectacular view of one of England's highest mountain passes.
Or if you want a little less adrenaline and a little more history, book a Mine Tour and gain an insight into Honister's rich 350 years of working history, from tales of young miners to explosive special effects and enhanced reality technology.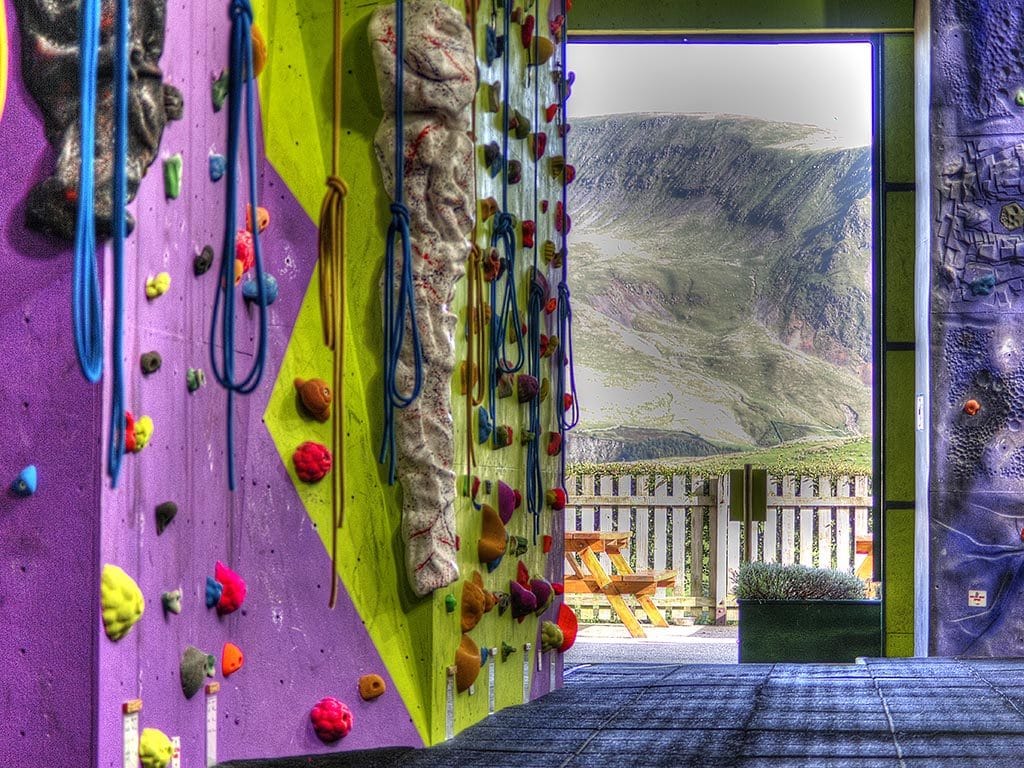 ---
Enjoy a Museum
Derwent Pencil Museum
Did you know that Keswick is the home of the first pencil and Borrowdale was a centre of graphite mining from the 16th century? The Derwent Pencil Museum takes you on a journey through a replica graphite mine - discover how pencils were used in WW2 to hide secret maps, and marvel at one of the largest colour pencils in the world, measuring almost 8 metres. The Derwent Pencil Museum is a fun attraction for all the family, with regular children's activities throughout the summer. There is also a coffee shop and fantastic art shop with a wide selection of art supplies to get creative at home or for lovely presents.
Keswick Museum
If you'd like to learn more about the local area, the Keswick Museum is a great place to start. The Keswick Museum features a fantastic local history collection, going back as far as Roman times. Exhibitions, events and displays tell the story of Keswick's landscape, history and culture with a shop and great cafe. The museum also holds family activities, guided tours, events and talks.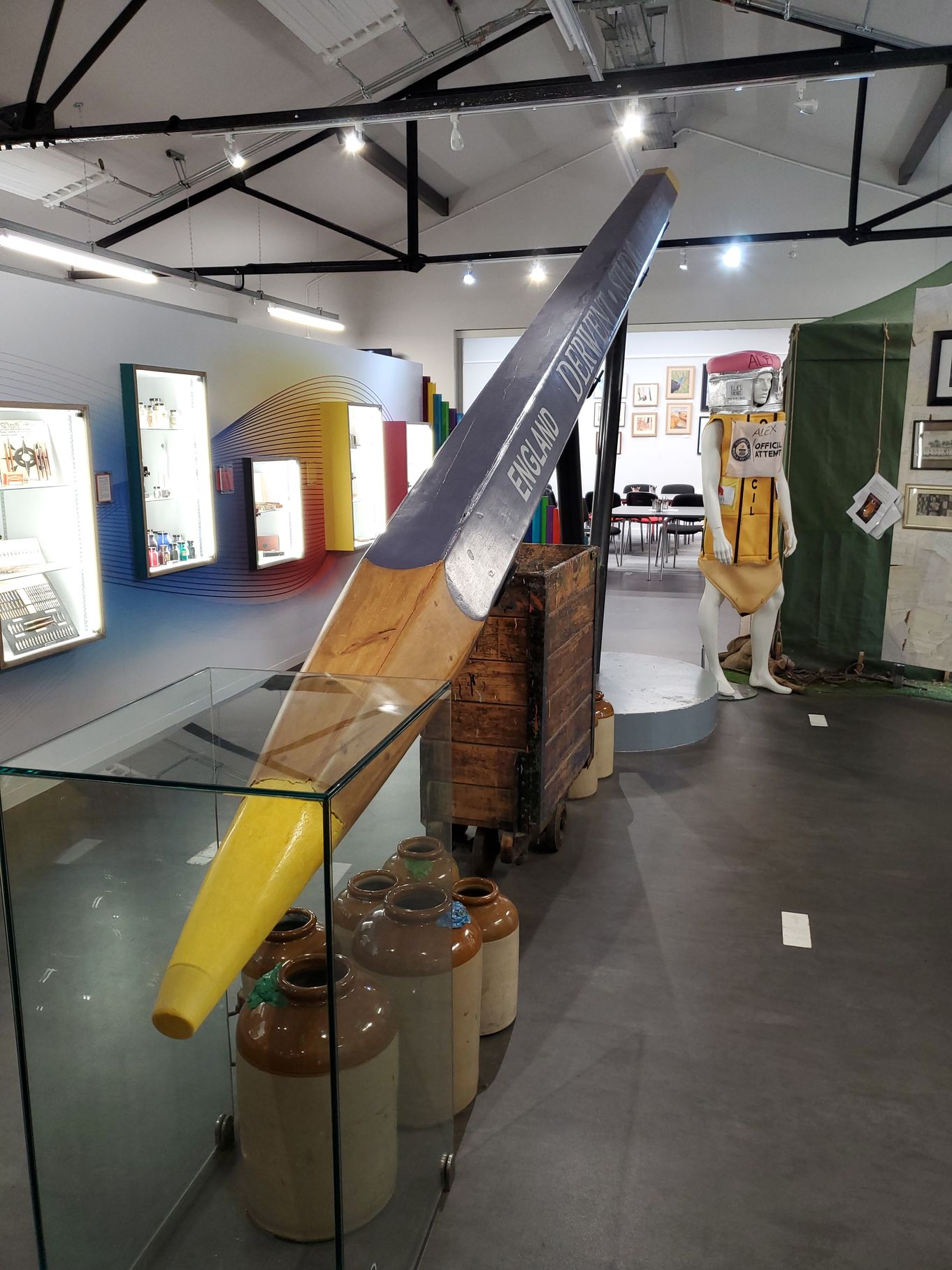 ---
Explore Some History
Mirehouse and Gardens
Set in the heart of the North Lake District, three miles from Keswick, the beautiful, natural gardens at Mirehouse and Gardens offer stunning views of the dramatic Lakeland landscape they are set in. Enjoy the tranquility of the walled Bee Garden, stroll in quiet contemplation along the Poetry Walk, through woods and farmland, or sit by the shores of Bassenthwaite Lake.
In the house, a relaxed welcome, enhanced by its unique literary connections and beautiful collections, await visitors to Mirehouse. Visitors can enjoy the live piano music, unusual photographs and manuscripts and children's activities as they wander through this family home.
Find out more about Wordsworth
Explore all about William and his sister Dorothy's life when they lived in Dove Cottage in Grasmere and William wrote many of his greatest poems, explore lovingly restored Dove Cottage and find out more about his poems in the museum, all at Wordsworth Grasmere.
And if you want to learn more about Wordsworth, why not head to Cockermouth to his childhood home at Wordsworth House and Garden. This Georgian townhouse is presented as it would have been when he lived here with his family and you can explore the children's bedroom and working kitchen and if the weather allows, explore the riverside garden. Children's activities run from May to October in the school holidays and are free with admission.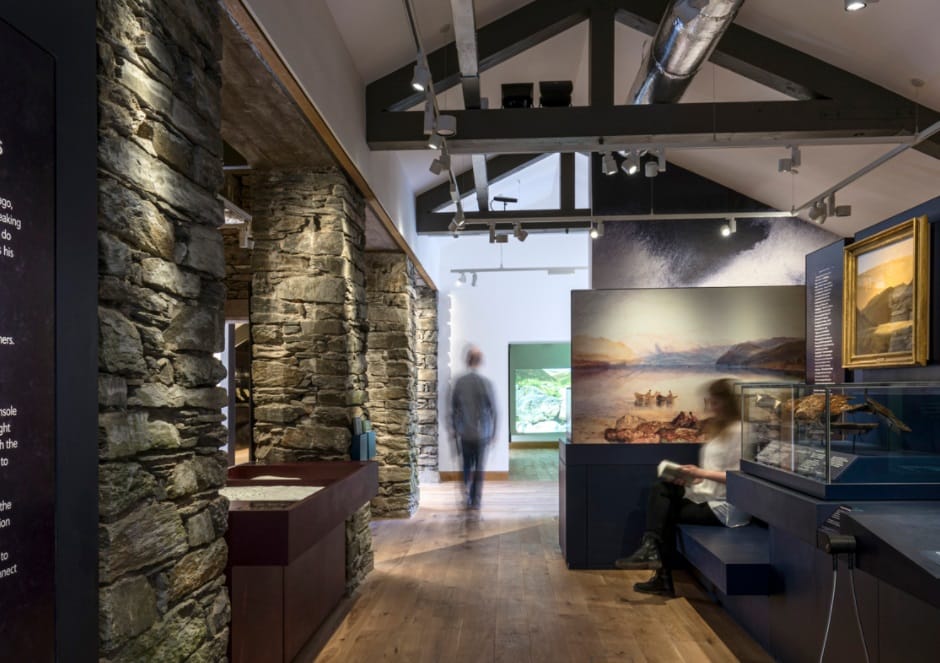 ---
Get Even Wetter
You don't have to head straight for the nearest shelter when it's raining. Try jumping into pools and get properly wet instead (under expert guidance). Higher water levels, deeper pools and faster waterfalls make water sports like ghyll scrambling and canyoning even more fun. Jump off waterfalls, slide down water-chutes, dive into plunge pools and wade though water, as you descend a mountain stream. Whether you're a beginner or more experienced, expert instructors will guide you through the various challenges - find out more here.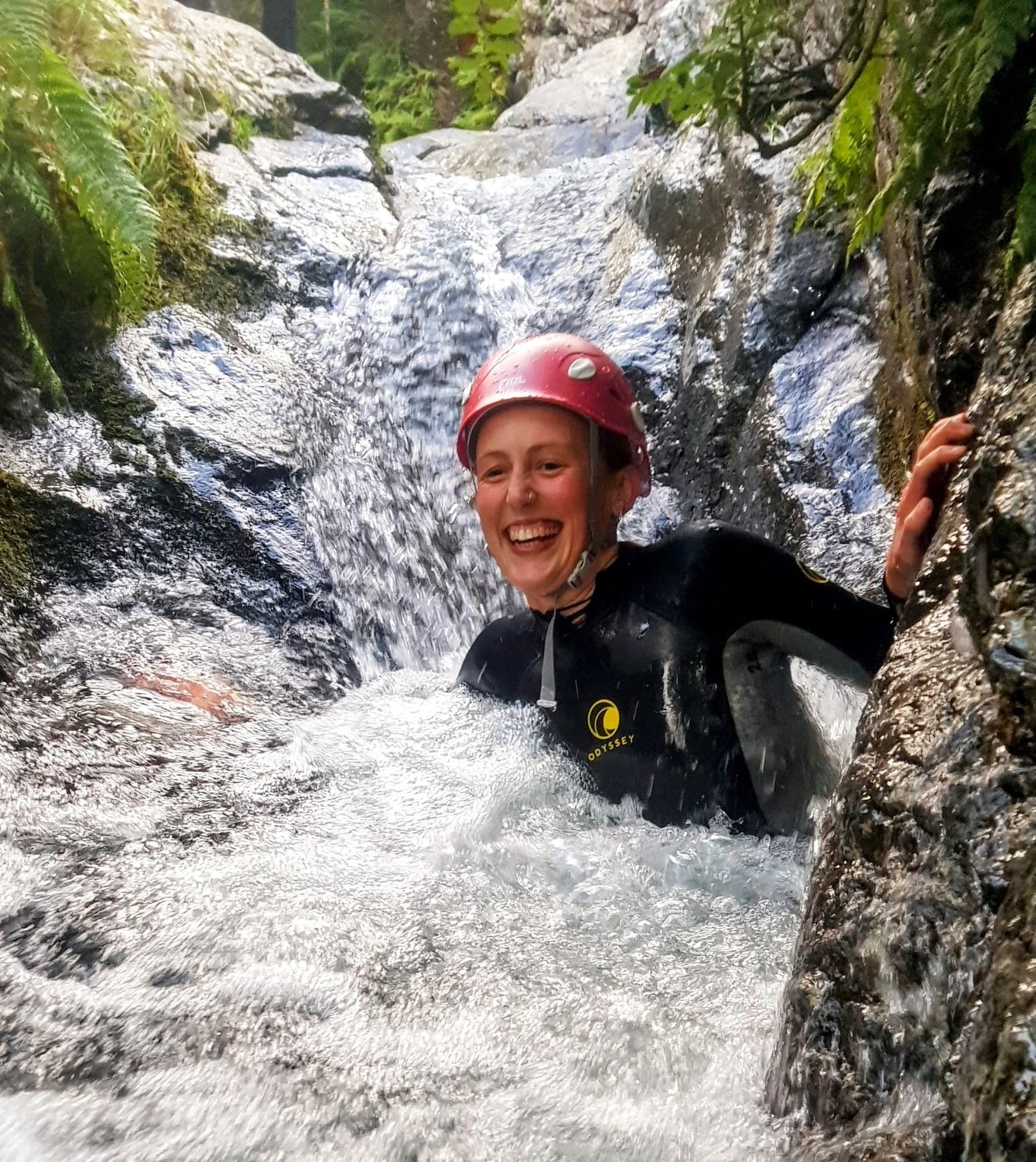 ---
Explore Keswick's Cafés, Shops, Pubs and Restaurants
Another great way to spend a rainy day in Keswick is exploring our town centre, where we have a wealth of independent cafés and shops, cosy pubs, and restaurants. There is a wide range of independent shops and galleries offering local produce, clothing, gifts, jewellery, toys, food and drink, and much more. There are lots of options for eating out with everything from coffee shops and delis to patisseries, tearooms and restaurants. Put your feet up at the end of a long day in one of Keswick's many pubs, where you can enjoy a local pint and classic pub food.
There are also many options in the surrounding area. Just outside Keswick head to the former Bassenthwaite Lake Station where a full-size replica steam train used as the filmset for the 2017 film, Murder on the Orient Express awaits you. Enjoy breakfast, brunch and lunch and a wide range of teas and cakes. Nearby, in the village of Thornthwaite, visit Thornthwaite Galleries where you can browse the work on display of over 140 local artists including paintings, jewellery, pottery and textiles. The gallery's tea shop offers homemade cakes, soups and sandwiches.
The Bistro at the Lakes Distillery, on the North shore of Bassenthwaite Lake, serves light lunches and afternoon teas, snacks, drinks and The Lakes' signature spirits and cocktails. Whilst there don't miss out on a tour of the distillery and follow the journey of how the distillery's spirits are made.
Lingholm Kitchen and Walled Garden serves a delicious range of locally sourced food from brunch and lunch to afternoon tea and cakes. All looking over the walled garden created by Beatrix Potter credited as her original inspiration for Mr McGregor's garden in The Tale of Peter Rabbit.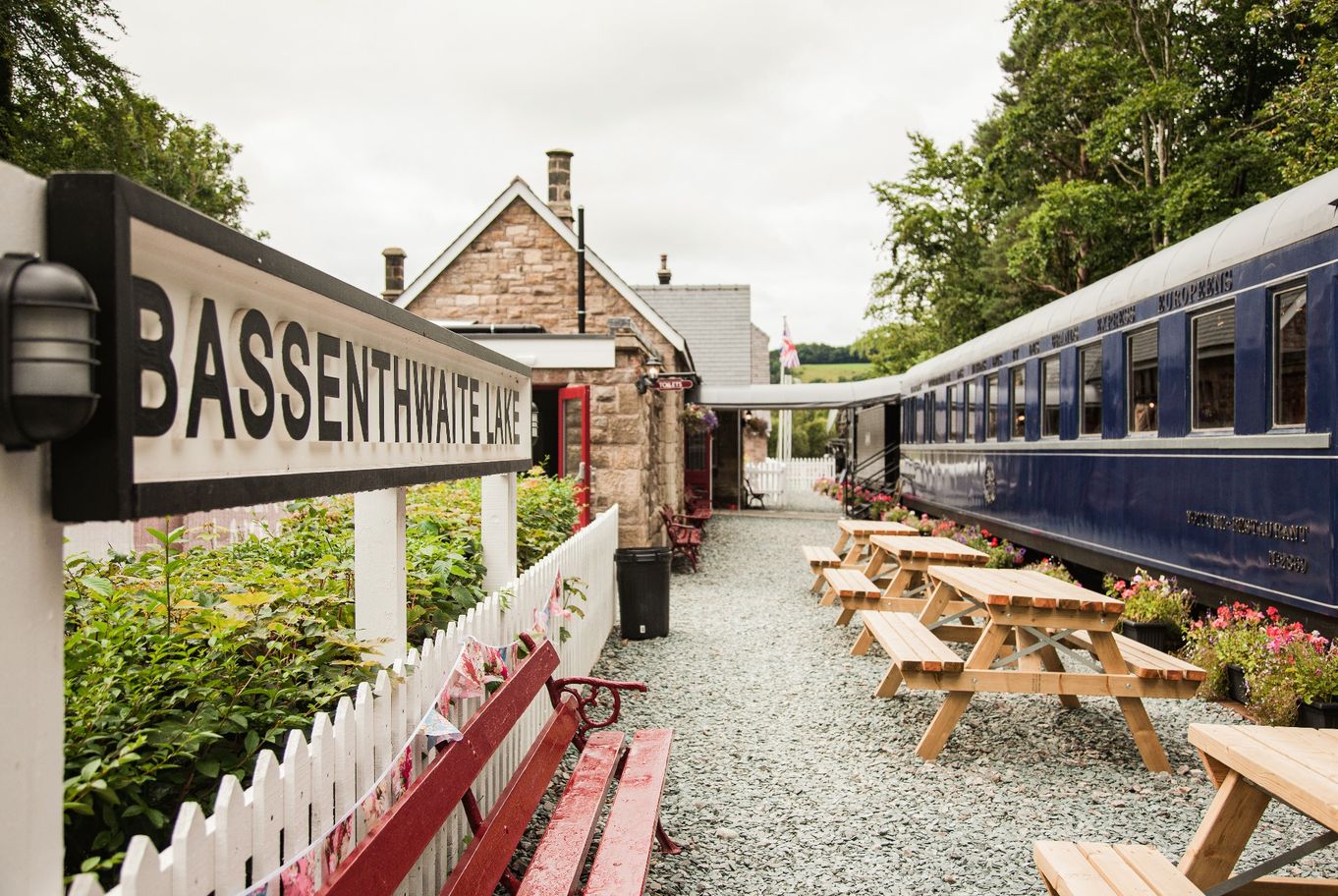 We hope that this blog post has given you some ideas on what Keswick has to offer during the occasional spell of bad weather! For more information about Keswick and things to do in the local area, visit visitkeswick.com.
Subscribe to our blog to get it directly to your inbox