Guest Blog: 3-Day Itinerary of Family-Friendly Adventure in Keswick
There are some towns from which you just get a vibe, and, for us, Keswick was one of those towns. Located in the northwestern quadrant of Lake District National Park, it's surrounded by the lakes and fells that define the region's stunning landscape. It's that scenery and the promise of outdoor activity that draws most visitors to the area, and it's a town that doesn't discriminate towards a particular type of adventurer; young couples, families, seniors, and everyone in between is a welcome visitor.
Keswick is an old market town with several hundred years of history. Through farming and mining, the surrounding land had long provided the region's industry and employment, but tourism began in earnest in the late 18th century as guidebooks began to entice visitors to the area's beautiful landscapes. There was a romanticism attached to it that inspired the works of writers and artists; an entrepreneurial man named Peter Crosthwaite opened a museum and served as a one-man sort of tourism board; and finally the addition of a railway line in 1860 transformed the town into a bonafide destination.
We had three nights booked to explore Keswick and its environs. Upon our arrival, it was immediately clear that Keswick wasn't just a sleepy little hiking village. Yes, this is a hub for visiting outdoor enthusiasts, but it also boasts a thriving local community that dispels the myth this is a tourists-only kind of town. There is way more to see, do, and experience than was possible during our short stay, but our 72-hour itinerary packed in as much as we could.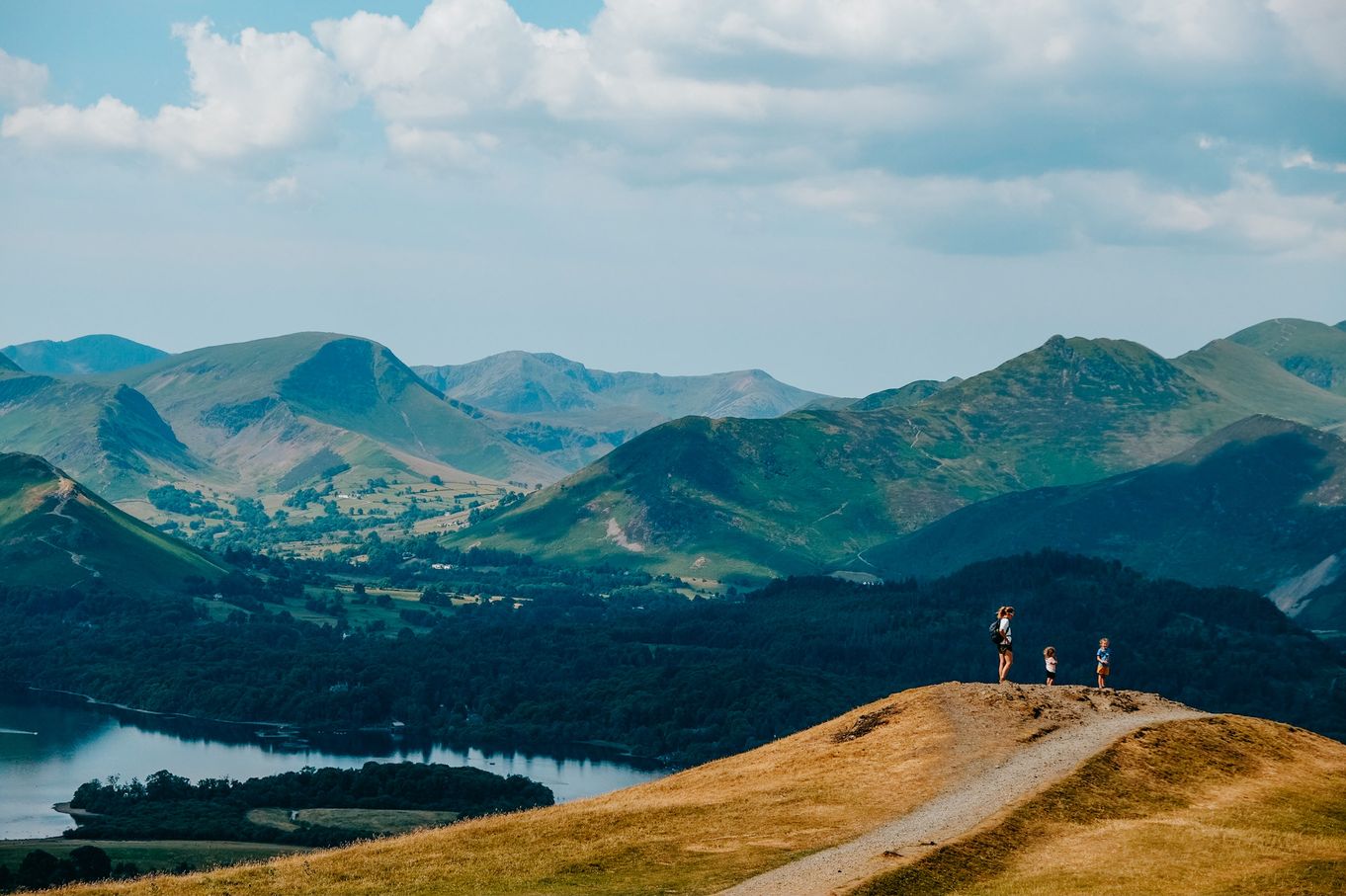 Guest Blog
This week we have a special guest blog from Kari from Nashville, Tennessee. She is a school librarian and blogger who loves travelling the world, along with her husband and two children.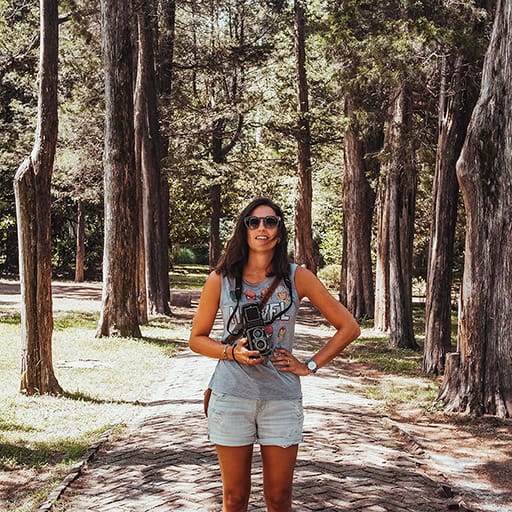 "since our kids joined the mix, we've rarely taken an outing without them. We're not a family looking for "family-friendly" adventures; we seek destinations and activities that can engage and inspire us all, and we figure out how to navigate them with two young companions."
If you enjoy this blog then you can read more of Kari's work at Hops and Skips.
Afternoon Arrival
We were staying just east of Keswick's heart, where it took a 15-minute walk to reach all the action. By good fortune, we were right around the corner from the Keswick to Threlkeld Railway Trail, a 3-mile long paved, accessible path renovated from the Cockermouth, Keswick and Penrith train line that closed in 1972. Most of the route carries on eastward, but the western-most section took us from across Penrith Road and the River Greta, into Fitz Park.
We were blessed with fantastic early summer sun and warmth, which allowed the kids to enjoy a late afternoon creek stomp and swim in the River Greta, accessible from the northern bank at the Station Road bridge. The playground was also visible just a short walk away, and, with wet feet, we headed over for the first of what would be several visits during our stay. Situated beside an impressive public cricket ground, the playground has different sections suitable for different ages.
With the kids satisfied, it was time for some parent-centered fun, which we found on the south side of the river at Keswick Brewing Company's Fox Tap Bar. It's dog-friendly and, thankfully for us, kid-friendly as well. One Saturday a month, from April to September, they host Brewery Socials that feature new beer releases and partner with a local restaurant for food options.
It was quieter for us on a Wednesday but, being such a beautiful day, the outdoor beer garden was the place to be, full of picnic tables and parasols. It's a great place to talk to locals (or other visitors) and get some under-the-radar recommendations. A Birmingham couple at the table next to us was on their fifth "hill walking" visit to Keswick of the year–and this was the first time they'd seen the sun!
DAY ONE
Morning // The Lake District is home to England's deepest lakes and highest peaks, so, intentionally, we began our first full day with an excursion that would immediately immerse us in this landscape. Derwentwater is considered Keswick's local lake, and Keswick Launch Co. offers daily boat service to explore its waters. There are eight jetties around the lake to hop-on and hop-off for hikes and other attractions. We opted to stay on board for a round-trip, hour-long cruise.
Our boat, the 1932 Annie Mallor, was nearly full as it departed the dock. Most of the company's wooden fleet dates back to its founding in 1935, with rebuilds and refurbishments along the way to keep them up to modern standards and in regular use. With clear blue skies overhead, we weren't the only ones inspired to get out on the water; several fellow passengers just popped over for a weekday ride to get outside during such beautiful weather.
Afternoon // After lunch, we took the opportunity to continue wandering the streets of the town centre. The Keswick Market was up and operating as it does every Thursday and Saturday–and has for over 740 years! Market Square is surrounded by shops, cafés, and pubs. One shop in particular grabbed the attention of the kids–Ye Olde Friars, a family-owned chocolate and sweets shop that has been open since 1927. There are tables upon tables piled high with all sorts of sugary concoctions, but the real thrill is in browsing the chocolates behind the glass display counter. We each chose one and savored it outside on the steps of the iconic Moot Hall, its clock tower chiming overhead on the hour.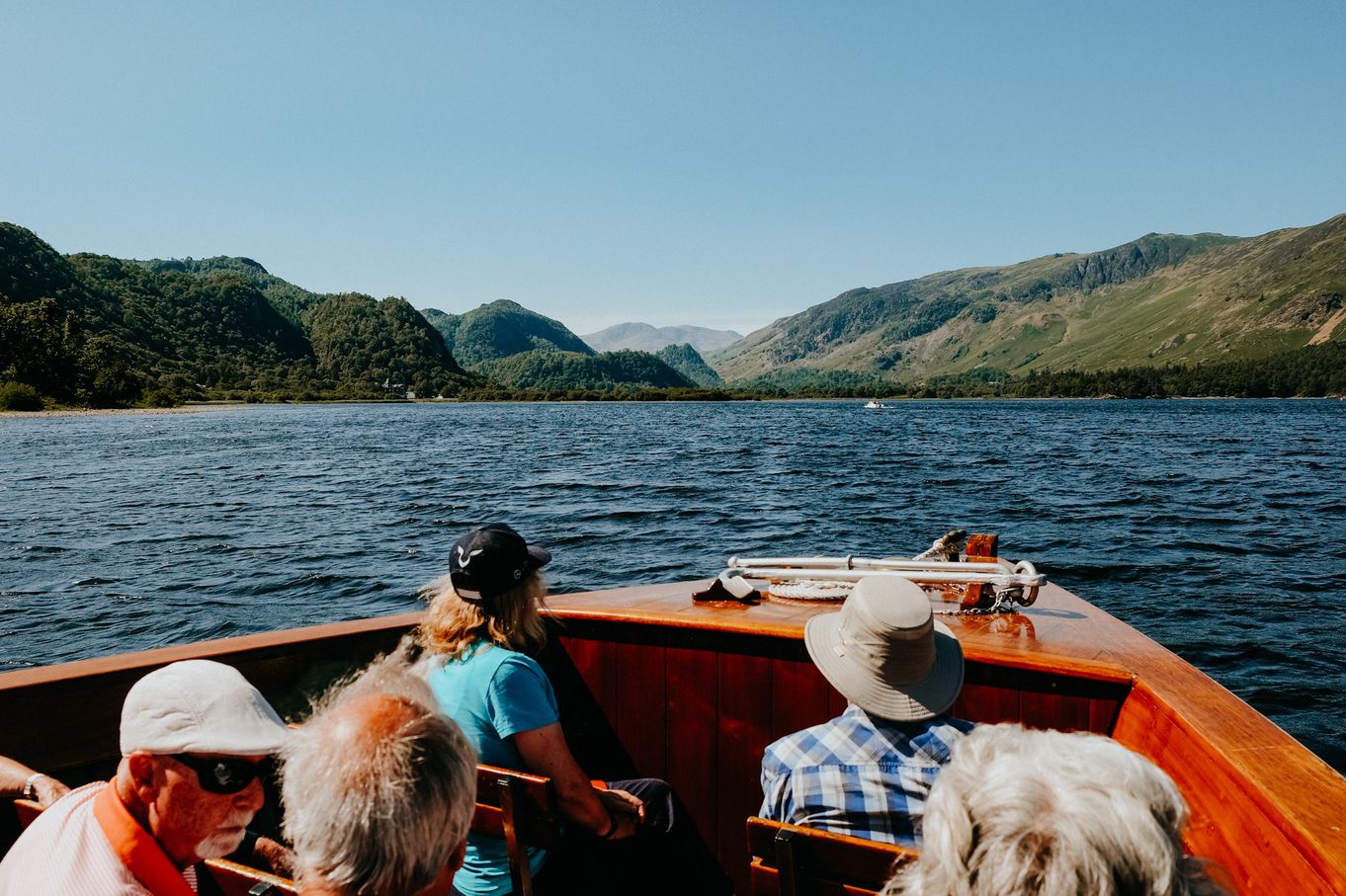 DAY TWO
Morning // You can't visit Keswick without breaking a sweat! There are endless walking and hiking routes in the area, and we chose a climb up Latrigg, Keswick's closest fell, after recommendation that it'd offer great views and work for little legs, too. The peak is lower in comparison to others in the region, but it has a stunning view of the surrounding town and lake that is hard to beat.
We parked behind the Leisure Center, just north of FItz Park, and followed the path up Spooney Green Lane. The route climbs up through forest before the views really open up to the surrounding hills and vales. At several points, we crossed paths with cows and sheep, and giving silly names to the ones we found helped get the kids through the harder parts of the hike. From Keswick, it's about a 3-mile hike round trip, but one of the best things about Latrigg is that it's accessible for adventurers of all kinds; there's a small car park reachable from Applethwaite with a Limited Mobility Path that climbs to the viewpoint. At the top, you can see the sprawl of Keswick below, and the fells of the Lake District extend as far as you can see. We rested and enjoyed a picnic lunch, savoring the view we had earned, before beginning our descent.
Afternoon // A walk west across Main Street, towards the river, led to our next activity, the Derwent Pencil Museum. Mining was a huge part of the region's early economy, especially with the discovery of a new material called graphite. Keswick is home to the first-ever pencil as well as the UK's first pencil-making factory. The museum shares this history and the evolution of the pencil as an art form–and houses the Guinness World Record-holding largest color pencil!
DAY THREE
Morning // On the last morning of our visit, we were at the doors of the Keswick Museum right when it opened. The museum, located near our beloved playground in Fitz Park, opened in 1898, and (aside from modern updates) its Victorian architecture remains relatively unchanged. The collections are varied and share a lot about the local geography, growth of the tourism industry, environmental impact, and well-known local artists and writers that found inspiration from their Lake District home. There are lots of hands-on activities for the kids to explore–art projects, puppet shows, a badger scavenger hunt. Our favorite, though, was definitely the Musical Stones of Skiddaw. It's an 8-octave xylophone built in the mid-1800s by a local stonemason with local hornfel stone. He and his son toured the country and continent performing concerts, including one for Queen Victoria, and it now has a permanent home in the museum.
Lunch // We had time for one last meal before our trip to Keswick came to an end, and we chose The Wild Strawberry, a café located in a red-trimmed historic building on Main Street. There's a mouth-watering patisserie when you first enter, but we headed upstairs for a table and enjoyed a delicious lunch of crepes, soup, sandwiches, and tea. A mother-daughter pair next to us ordered the afternoon tea for two, and the multi-tiered tray of goodies they were served had us all eyeing their table with envy.
We could have easily spent another week enjoying Keswick; there were loads of offerings for the whole family to explore and enjoy. Despite packing our three days full of activity, it feels like we barely scratched the surface–it's no wonder visitors, like the ones we met on our first night in town, return to the area again and again!
Thank you for Kari for this fabulous guest blog. If you would like to read more of her work, check out her blog, Hops and Skips.
Subscribe to our blog to get it directly to your inbox