Wordsworth Grasmere, winner of the Cumbria Tourism Award 2023 for 'Small Visitor Attraction of the Year' team up with Stagecoach to give staff and volunteers a celebration to remember.
Michael McGregor, Director of Wordsworth Grasmere, said:
'Wordsworth famously said "the world is too much with us" but this award means the world to us. This award is all about people. It is about the people that visit us and give us fantastic reviews and have their lives changed for the better. It is also about our amazing team who provide the most brilliant experience for everybody – day in day out.'
Parading onboard the open-top 599 bus Wordsworth Grasmere staff and volunteers were proud and delighted to show off their award.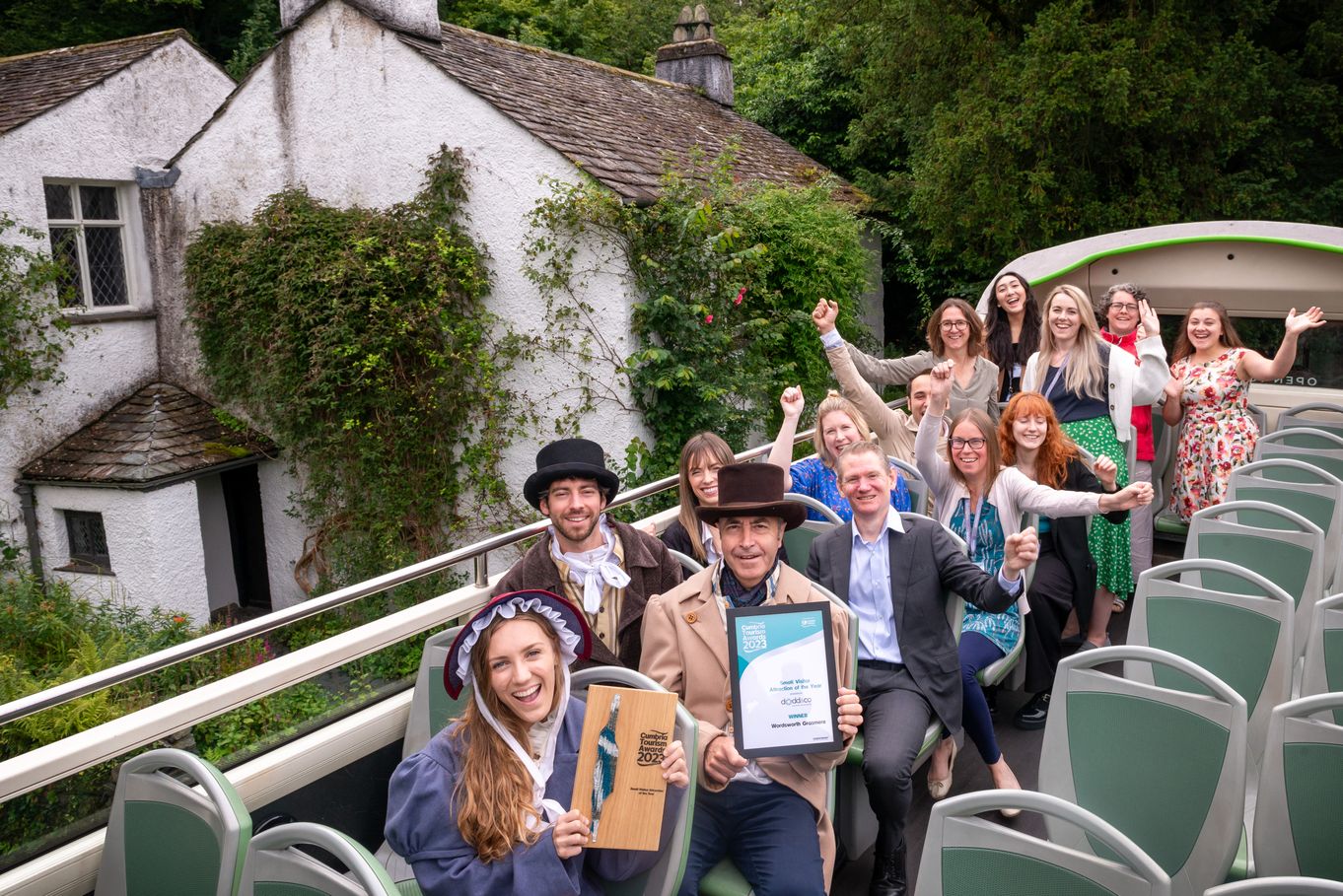 As the winner of this prestigious award, Wordsworth Grasmere will go on to represent Cumbria in the VisitEngland Awards for Excellence in 2023.
Wordsworth Grasmere is an experience not to be missed. Nestled away in a beautiful historic hamlet in Grasmere sits Dove Cottage, home of the famous English poet William Wordsworth and his sister Dorothy. The Cottage transports you back to the early 1800s, where Wordsworth wrote many of his greatest poems and Dorothy kept her Grasmere journal.
In the stunning Museum you can discover Wordsworth's radical and creative life and enjoy spectacular views of Grasmere from the Viewing Station. Explore the beautiful Garden-Orchard and Woodland and visit the Café serving locally sourced food and drink. There is always something special to see; an exhibition 'To the Lakes!' invites visitors to experience the Lake District through the words and images captured by tourists 200 years ago including the clothes they wore!
If you arrive by bus, you will receive 20% off admission for Wordsworth Grasmere. The bus through the heart of the Lakes is one of the most picturesque routes, with a single Stagecoach bus fare capped at £2 until end October 2023.
From Keswick, the 555 route climbs away from the views of Derwentwater towards the wooded slopes of Thirlmere over Dunmail Raise. Next, heading towards Grasmere and Rydal and on to the busy market town of Ambleside where passengers are greeted with bus stop views of the Langdale valley. From Windermere, rolling hill views take you to Kendal and through the South Lakes to Lancaster.
Operated by Stagecoach, you are in for a treat. The 599 (Bowness to Grasmere) is open-top and equipped with USB charging ports, commentary, and next stop announcement. For longer journeys, the 555 (Keswick to Lancaster) has table seating, wireless charging & USB charging ports, next stop announcements, reading lights and a cleaner engine.
Tom Waterhouse, Interim Managing Director Stagecoach Cumbria & North Lancashire, said:
'It has been a brilliant opportunity to partner with organisations across Cumbria where we can support a modal shift from cars to bus. This is at the same time as single bus fares being capped at £2 until end of October 2023, so also offering great savings on admission tickets for attractions such as Wordsworth Grasmere, makes the Lake District a fabulous place to visit'.
Explore the lakes by bus Timetable; Wordsworth Grasmere has moved to summer hours, now open 7 days a week. To book tickets: www.wordsworth.org.uk