Wordsworth House Staff And Volunteer Gill And John 'Make The Journey' For Dorothy's 250th Anniversary
Gill and John Conlon, who work and volunteer at Wordsworth House and Garden in Cockermouth, have shared photos and a poem inspired by the 'Make the Journey' challenge for Dorothy Wordsworth's 250th anniversary.
A joint initiative between Kirkgate Arts and Heritage, Eden Poets, the National Trust, the Wordsworth Trust and Rydal Mount, 'Make the Journey' challenges people to make their way from William and Dorothy Wordsworth's birthplace at Wordsworth House in Cockermouth, to Rydal Mount near Ambleside – the place where Dorothy died, and then to share any creative responses inspired by the journey.
Many places were set to mark the 250th anniversary of the famous Lakeland poet William Wordsworth in 2020, but national lockdowns made that difficult. Dorothy, his sister, muse and companion for many years was born 250 years ago this year and was a creative and imaginative force in her own right, so heritage and cultural organisations across Cumbria are joining together to mark the occasion.
Gill said "I feel a real affinity with Dorothy, and before the pandemic we regularly gave talks to visitors about her – a woman not recognised in her time. I thought this was a really good way to show my support for her in this anniversary year."
"Making the journey was an incredible day – it was particularly lovely to start from Wordsworth House. It's really moving to see Dorothy's baby bonnet in the exhibition there, which is the only object that survives from their childhood. We felt totally 'in the zone' visiting the places they lived and walking the paths that they trod. It felt like a pilgrimage."
Anyone who would like to Make the Journey for themselves can use downloadable walking and cycling trails which were created and tested by National Trust volunteers earlier this year and are available to download for free from www.nationaltrust.org.uk/wordsworth-house
People can also watch a film produced by Eden Poets and Kirkgate Arts and Heritage about the Make the Journey challenge on the Kirkgate Arts youtube channel.
Make the Journey is part of the 'I am Dorothy' project celebrating Dorothy Wordsworth's anniversary and her impact on the world that is being led by Kirkgate Arts andHeritage and is funded by National Lottery Heritage Fund and other funders including Allerdale Borough Council and Cockermouth Town Council.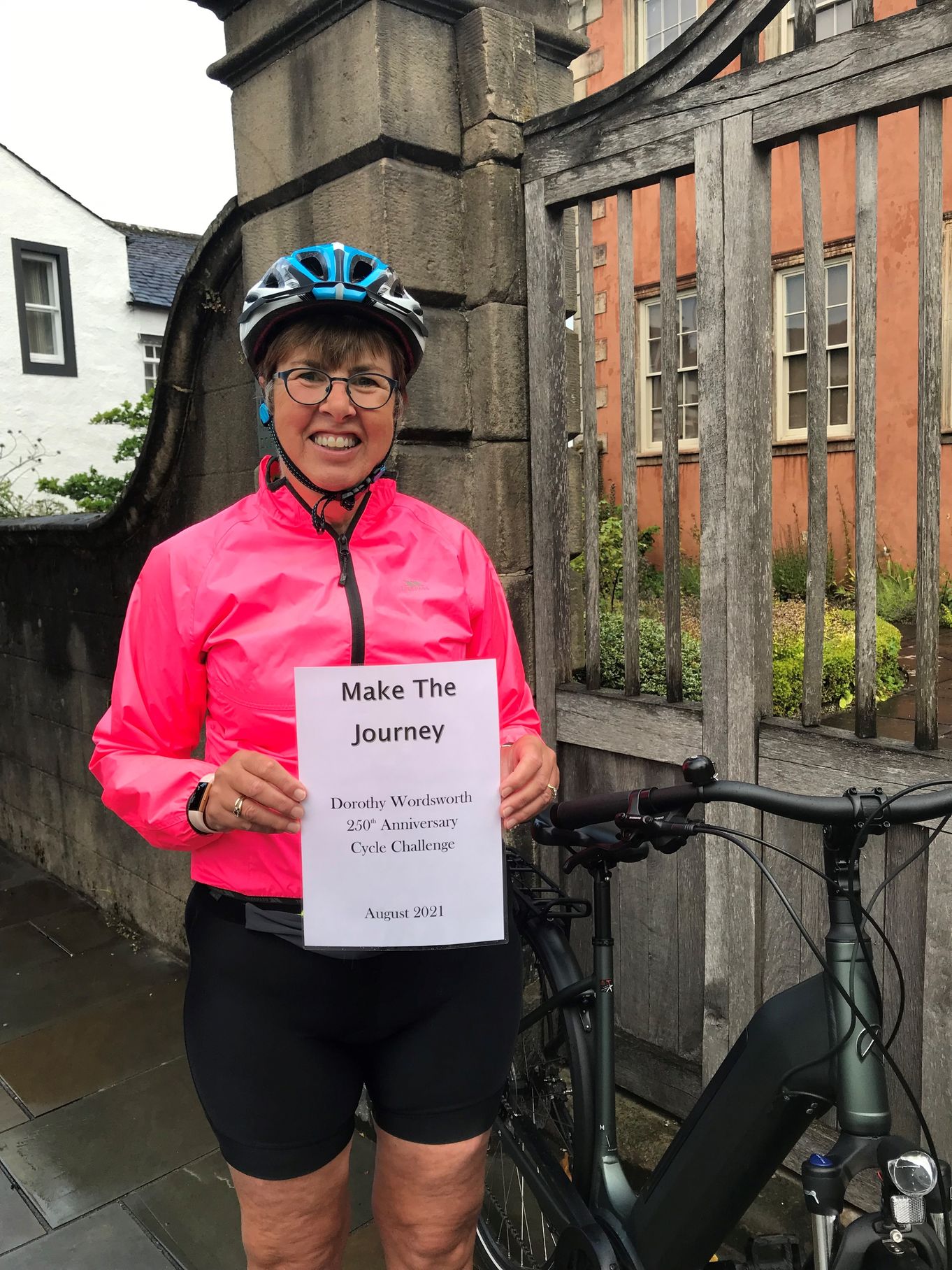 John wrote this poem inspired by making the journey and finding out more about Dorothy's life:
The Sister
The "shooting lights" of her "wild eyes,"
uncovered his memories,
provoked his dreams,
condemned her as his eternal Muse.
A prisoner of uncompromised devotion
cast out of the steely bones of a child,
banished at six,
hurled from the garden womb
that was joyous life,
losing all,
save memories of him,
to be reborn,
conjoined for life,
married in heart and soul.
She gave him "eyes and ears"
to unmask his fantasies,
unleash his words,
garnish grim nature with nature's grandeur,
set him to stride the fell,
unlocking its secrets
for every man.
John Conlon