7 Reasons to come to Keswick this December
Christmas is a lovely time to visit Keswick with the twinkling lights and the beautifully decorated shop windows. Make Christmas shopping into a fun day out rather than just a chore and enjoy strolling round our lovely shops. Keswick is also a great place where you can get outdoors and keep active. Maybe plan a visit in that quieter time between Christmas and New Year, to give yourself the chance to recharge your batteries after all the frantic preparations in the run up to the big day. We hope you'll find some inspiration below for a festive visit to Keswick this December.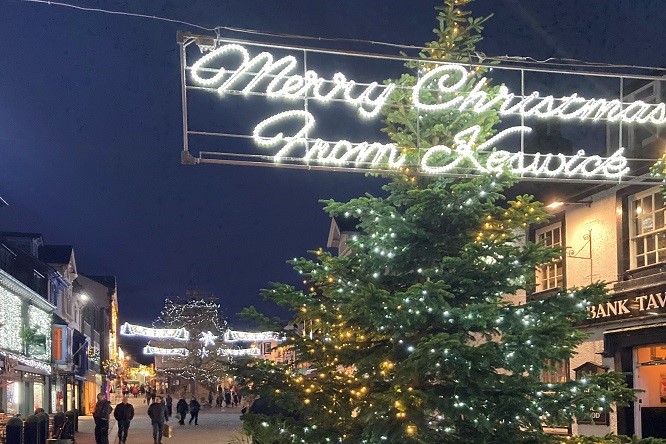 Spend a day Christmas shopping in Keswick in our many independent retailers and galleries offering unique gifts distinct from those found in the traditional high street stores of the larger shopping destinations. Our wonderful shops and galleries are a haven of inspiration for those hard to buy presents. Don't miss Packhorse Court tucked away just off the Market Square where you'll find a variety of independent retailers. As dusk begins to fall enjoy our lovely Christmas lights. Whilst you're here why not treat yourself to lunch or coffee and cake in our of our many cafes and restaurants. Once loaded up with all your gifts the compact nature of the town means it's never too far to head back to the car or bus stop.
After a couple of days spent eating and drinking at home those few days between Christmas and New Year are a great time for a visit to Keswick. A walk by the lake to blow away the cobwebs, a light lunch in one of our lovely cafes, followed by a wander around the shops - a chance to look round the Christmas sales, spend some of your Christmas money and treat yourself to something special.
---
2. Keswick Christmas Window Walking Trail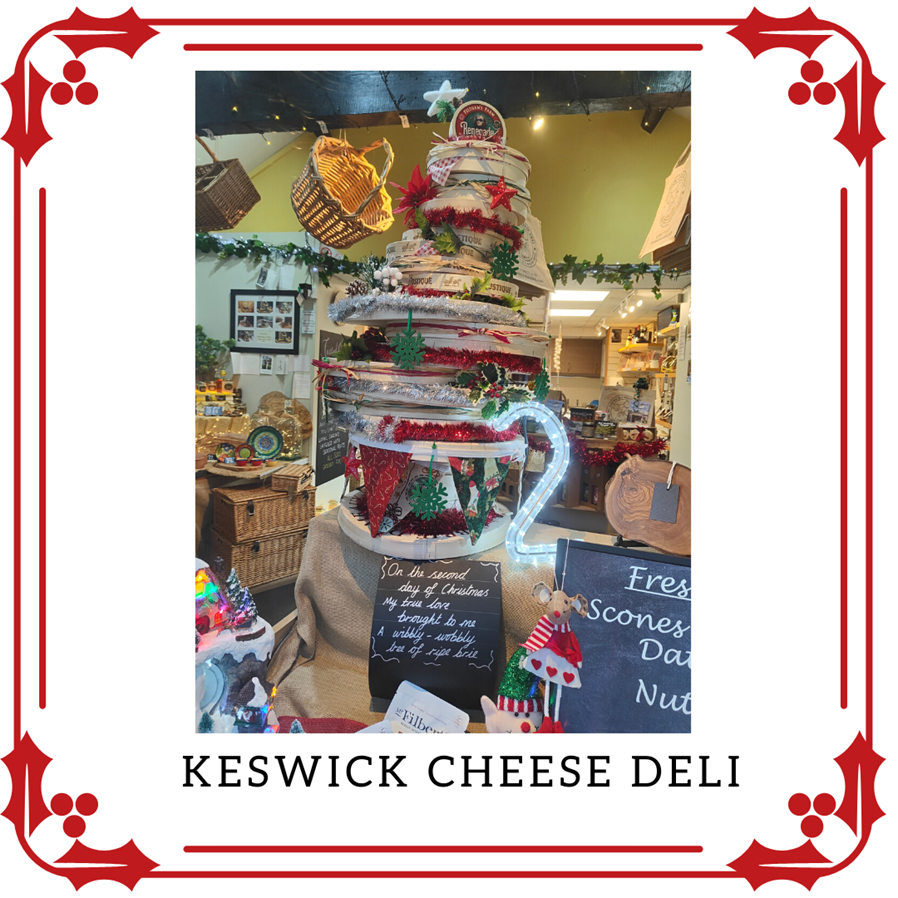 Enjoy a walk round our Christmas window walking trail. It will take about an hour if you walk it in one go or just look out for the numbered windows as you walk around town and see how many you can spot. There are 14 Christmas windows with a map and directions you can either print off or simply download to your mobile to guide you round the trail. We hope it will be an enjoyable outdoor activity for all the family.
3. Deck the Howls Christmas Dog Walk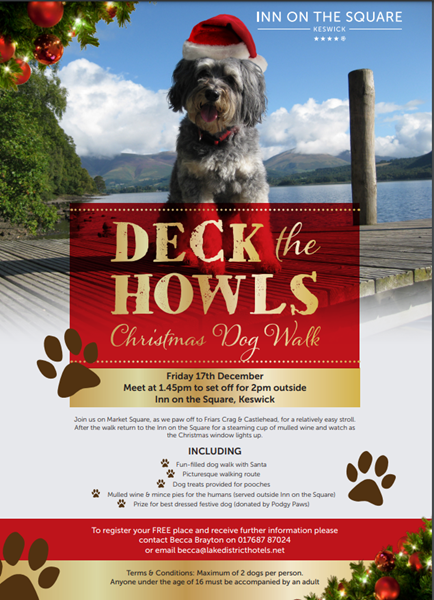 Alongside our Christmas Window Walking Trail is a programme of festive events including a Free Christmas Dog Walk with Lake District Hotels
Grab your walking boots, pull on your Santa hat and wrap up warm this Christmas. Paw off from Market Square, Keswick to Friars Crag & onto Castlehead, for a relativity easy stroll, taking in classic views of Derwentwater. After the walk return to the Inn on the Square for a complimentary cup of mulled wine.
Included:
• Fun-filled dog walk
• Picturesque location
• Dog treats provided for pooches
• Mulled wine for the humans (served outside Inn on the Square)
• Prize for best dressed festive dog (donated by Podgy Paws)
Friday 17th December
Meet at 1.45pm to set off for 2pm
To register your free place and receive further information please contact Becca Brayton on 017687 87024 or email becca@lakedistricthotels.net
Maximum of 2 dogs per person. Anyone under the age of 16 must be accompanied by an adult. You must sign up for the walk to receive a complimentary mulled wine.
---
4. Tom's Midnight Garden at Theatre by the Lake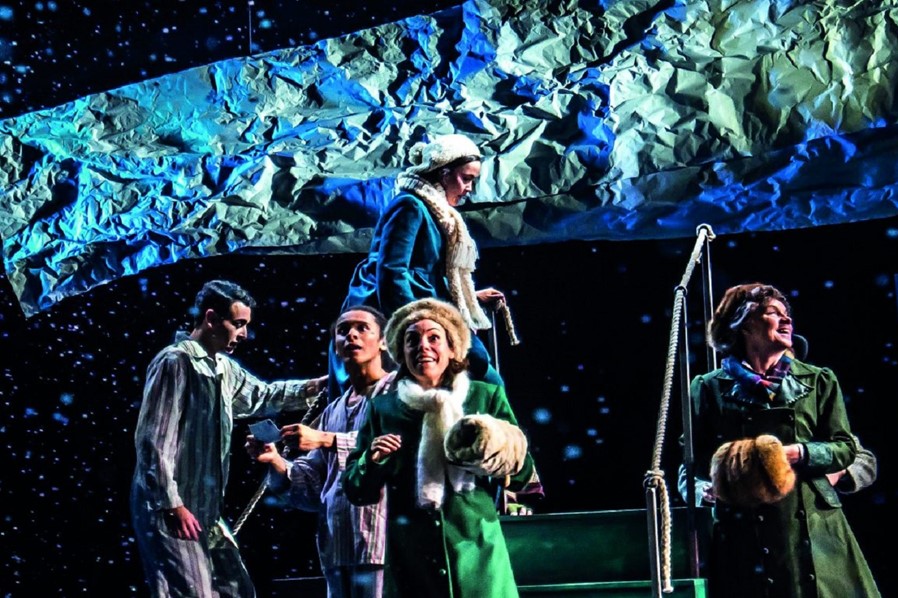 This year the Christmas show at Keswick's Theatre by the Lake is a stage adaptation of Philippa Pearce's well-known book Tom's Midnight Garden.
It tells the story of Tom who has been sent away with his aunt and uncle to quarantine in a mysterious old house. Bored and lonely, Tom counts down the days until he can go home to his old life, until one night, he hears the grandfather clock strike thirteen. Guided by ghostly voices, Tom discovers a magical garden on the other side of a door and meets Hatty. The pair strike up a firm friendship, sharing adventures without a care in the world. But all is not as it seems, and poor Tom soon discovers that he is rapidly running out of time.
With its mix of playful theatricality, music and puppetry, the production will appeal to all age groups. It runs until Saturday 15th January so there's still plenty of time to book your tickets and enjoy the show.
---
5. See a Film at Keswick Alhambra Cinema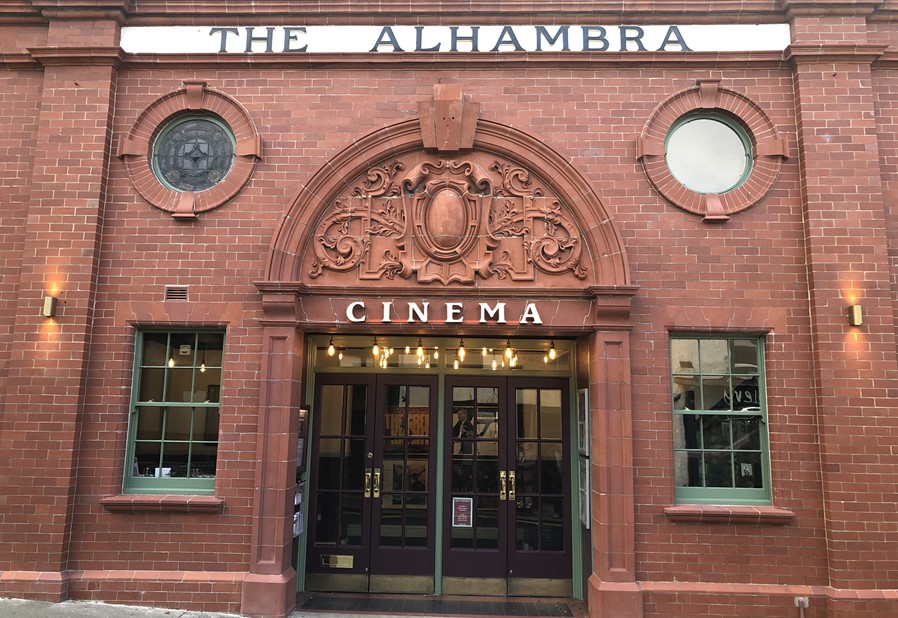 If you haven't visited Keswick Alhambra Cinema recently there's been a few changes happening. The front of the building has been renovated and a brand new 28-seater second screen has been installed. It's tucked away under the balcony to preserve all the original features including the balcony and stalls layout of the large auditorium. The 108 year old building, full of character, is a world away from the city centre multiplexes. The new auditorium allows the Alhambra to screen a more diverse range of films. Throughout December films include It's a Wonderful Life, A Christmas Carol and screenings from the Royal Opera aswell as Spider Man - No Way Home and A Boy called Christmas and much more besides. Click here for more. Watch out for more details as we hear they are the only cinema in the UK to be open on Christmas Day.
On Christmas Eve the classic Christmas comedy favourite, Elf will be screening at 4.30pm. The cinema continues its annual tradition of donating all proceeds from a Christmas Eve screening to Cumbria Community Foundation's Winter Warmth Appeal. Bring friends and family for a mulled wine, a Christmas treat, and to celebrate and support the work of the CCF Winter Warmth Campaign.
---
6. Go on a Christmas Walk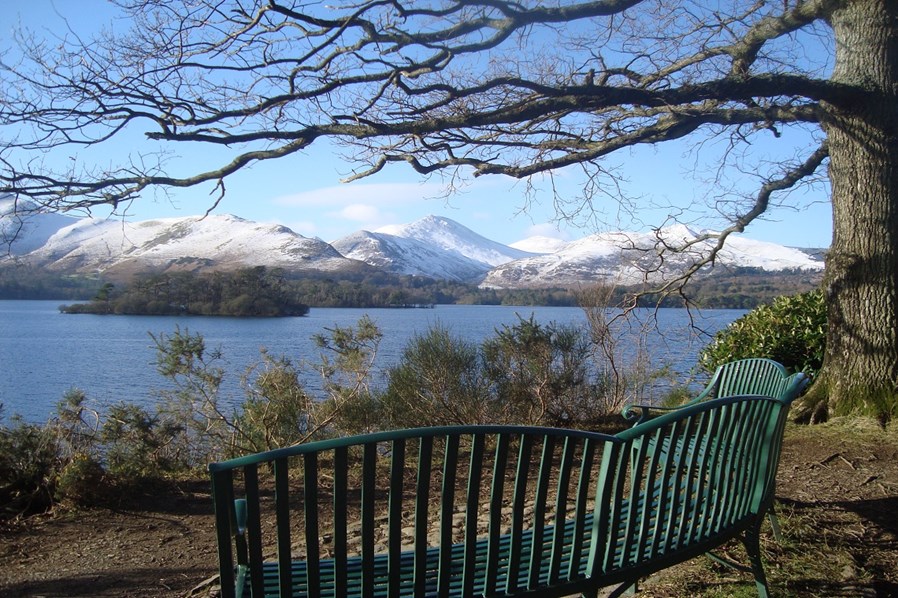 You might not fancy heading up to tackle the high fells this December but there's plenty of low level options on our walking page. Depending on the weather there might be snow-capped fells to look up to. Try a circular walk through the woods as far as Calfclose Bay, then back along Derwentwater lakeshore and through Hope Park. It is accessible with an all-terrain pram although you will encounter a few bumpier sections along the way. For a shorter option a walk along the Derwentwater lakeside path to take in the beautiful views at Friars Crag is just enough on a winter's day. Warm up with a post-walk hot chocolate in town in one of our lovely cafes.
---
7. Head up to Whinlatter Forest
After a busy month of Christmas preparations some time out in the forest, just getting back to nature, can give you the opportunity to relax and unwind. Whinlatter Forest is home to stunning views, fantastic marked trails for both walking and running, exhilarating mountain biking and adventurous play. If you're looking for something a bit more adrenalin-fuelled Go Ape Treetop Challenge is open throughout December with the exception of 24-26th December and 31st Dec-1st January. Enjoy two to three hours in the trees, taking on zip wires, Tarzan swings, rope ladders and a variety of obstacles and crossings.
---
With Love from Keswick

If you're not able to visit us this December you can still send someone a little bit of Keswick for Christmas. Lots of your favourite shops here have online shops with some lovely gifts to choose from. For the person who has everything there's a great choice of vouchers from overnight stays and meals out to attractions and activities - something to look forward to later in the year.