What's On - Half Term School Holidays in and around Keswick the Lake District
October Half Term 2022 in Keswick
Halloween Movie In The Mine At Honister.com
29th & 30th October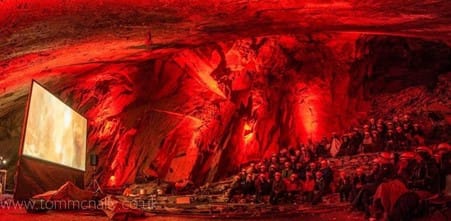 Underground screenings of horror classics are coming to Honister.
For two days only, you can go deep underground into Fiddler's cavern, for an afternoon scare fest, where you can watch a collection of the scariest horror films that have ever been seen on screen. The Woman In Black, The Conjuring, Sinister, and The Shining… you'll be underground… and in the dark!
Half Term at Mirehouse and Gardens
To 31st October
Open until the 31st of October, there is plenty to occupy youngsters at Mirehouse & Gardens before the winter evenings draw in. The woodland playgrounds are always popular and timed races on the Steeple Chase are a favourite for burning off energy. There is no shortage of fir cones to be "fired" from the woodland fort at attacking "armies".
Under 4s are free of charge and the family nature trail helps to spot red squirrels, birds and unusual plants as you go round the gardens. Skimming stones by Bassenthwaite Lake certainly helps to pass the time in a stunning setting.
In the house the owl trail or family quiz might help pass the time. Or a go on the rocking horse might be tempting! Then finishing off your visit to Mirehouse with a homemade cake, soup or Cumberland sausage from the Old Sawmill Tearoom across the road is always popular.