Breaking the rules of Painting' ~ Landscapes with Roy Simmons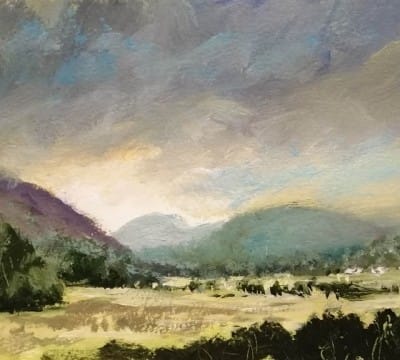 Contact
Organizer: Greystoke Craft Garden and Barns
Name: Greystoke Craft Garden and Barns
Phone: 017684 83984
Website: http://www.quirkyworkshops.co.uk
Address
Greystoke
Penrith
CA11 0UT
Price Notes
10.00am – 4.00pm £78 Lunch included Material Charges: £5
Direction
Details
Breaking the 'Rules of Painting' with Roy Simmons ... Beginners and intermediates.
This one day course is for anyone who wants to discover their own natural way of painting. We will be using acrylics.
I tend to paint in a very intuitive way, and believe that with guidance you can learn to 'let go' of the limiting beliefs that prevent your own way of painting coming through. If you are completely new to painting – Great! You have the advantage of the 'beginners mind' without trying! If you do paint already, be prepared to adopt that beginners mind to liberate your own style. Forget any 'rules' you may have picked up even without realising. Some rules to break.
'Start by painting the background' ~ 'Carefully draw your subject' ~ 'Only use the best materials' ~ 'Work from a sketch' ~ 'Paint slowly' ~ 'Don't try to paint until you can draw accurately'
Event Details
| Start Date | End Date | Times |
| --- | --- | --- |
| 15/06/2023 | 15/06/2023 | 10am |