A Green Man for the Garden with Dave Norman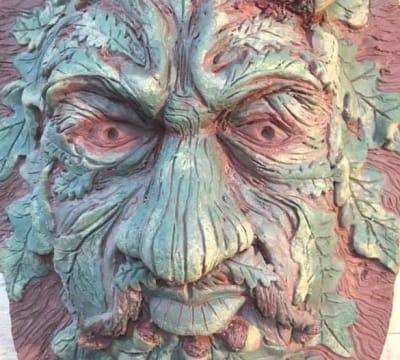 Contact
Organizer: Greystoke Craft Garden and Barns
Name: Greystoke Craft Garden and Barns
Phone: 017684 83984
Email: [email protected]
Website: http://www.quirkyworkshops.co.uk/workshops.htm
Address
Greystoke
Penrith
CA11 0UT
Price Notes
Please bring: Some leaves! ** for the MARCH course, at the time of booking this Autumn, please collect approx 20-30 varying sized hardwood leaves (Oak works really well and can be preserved using Glycerin - please contact us for the best method) Oak/Beech are best. There will be a £30 materials cost payable to the tutor on the day which will include the clay, the firing cost (3 times) multiple glazes and 'fettling'.
Direction
Details
Spend a lovely Day with Gwen Bainbridge creating a spectacular 'Green Man ~ or Lady ~ for the Garden' in Stoneware.
A new take on this very popular course, join Gwen and create a lovely Green Garden plaque ~ as scary / bumbling / friendly as you wish. Gwen will show you how with patient guidance and expertise.
These sculptures of a face surrounded by or made from leaves where branches or vines possibly sprouting from the mouth or nostrils etc and maybe bearing flowers or fruit. Such sculptures in bygone days were commonly used as a decorative architectural ornament, frequently found in carvings on both secular and ecclesiastical buildings.
Kindly note there will be a materials charge payable directly to the tutor on the day, of £30 for the materials used and the 3 firings required. Typically this course runs with around 8 students. Suitable for Beginners.
Event Details
| Start Date | End Date | Times |
| --- | --- | --- |
| 01/03/2023 | 01/03/2023 | 9.30am - 4pm |