Loose Botanical Water Colours with Lyn Evans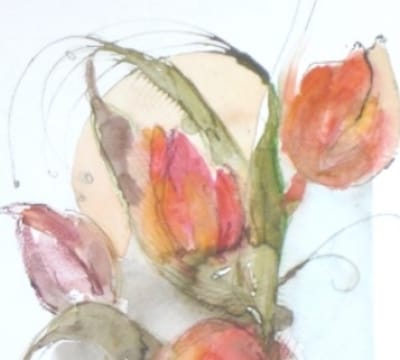 Contact
Organizer: Greystoke Craft Garden and Barns
Name: Greystoke Craft Garden and Barns
Phone: 017684 83984
Email: [email protected]
Website: http://www.greystokecyclecafe.co.uk
Address
Greystoke
Penrith
CA11 0UT
Price Notes
10am – 4pm £85 Lunch included Material Charges : Please bring your own materials. Please bring - Watercolour paper, (140 lb /300 gsm. or heavier) Watercolours, palette, brushes,black ink (Waterproof if possible), a couple of dip pens, some INKTENCE STICKS if you have some and any flowers, berries etc. or maybe photos of a bunch of flowers.
Direction
Details
Lyn likes to paint her watercolours largely from life, choosing blooms which will stay open for a couple of days. She likes interesting shapes so Iris, Lilies and Tulips feature largely in her work. Of course sometimes she uses a photograph, as flowers like peonies have a habit of exploding into life when you least expect it and its better to capture a required image in such cases.
Lyn will teach you how to employ loose watercolour techniques, allowing the pigment and water combination to work their own magic without to much interference being necessary and also using other tools, such as pens, inktence pencils, watercolour pencils, salt and twigs to be used along side your paints can also be used to obtain the beautiful effects from the watercolour.
At the end of the day everyone should have at lease one lovely piece of work to take home.
Event Details
| Start Date | End Date | Times |
| --- | --- | --- |
| 30/04/2023 | 30/04/2023 | 10am - 4pm |